Editorial Photo Credit: fitzcrittle
On January 28, 2022, Tisha Campbell posted a video on her Instagram telling her 2 million followers "don't freak out but I think I almost got snatched". According to Rolling Out, Tisha Campbell was filming an independent movie in close proximity to the Mexican border in Brownsville, Texas, when the episode went down.
"Don't freak out, but I think I almost got snatched up. So, they don't have Ubers where I'm filming and I had to call a taxi. So I get this number, but the truck—van that pulls up looks real sketchy. But there's a guy in the back seat, right? So when he jumps out, the guy is just standing there."
"I look inside the car, it's f—-d up," she continued. "The rubber is pulled up from the bottom, there's dirt everywhere, the back seat looked like it was snatched out and snatched out for a f—–g reason."
The second man then shot out of the car and told Campbell to enter the car, while the other man began motioning her to get in the backseat. After she refused to do so, one of the men told her to "get in the front seat then."
"I said I'm not getting in the f—-n' car. 'F— y'all,'" she recalled saying.
Campbell said she dashed back to the front desk and asked a staffer who the guy who gave her the number for a taxi was. The woman at the desk was perplexed by Campbell's question, as she didn't understand why someone would give Campbell that contact.
"Yo, this trafficking s— is real, Campbell continued in the video. "They got me f—-d up, 'cause I ain't Gina, b—-," she said, referring to the demure character she played on "Martin." 
However, two days after Tisha detailed her experience on Instagram, the Brownsville Police Department said they can't validate her story. The Texas-based department said they also learned of Tisha's story through social media.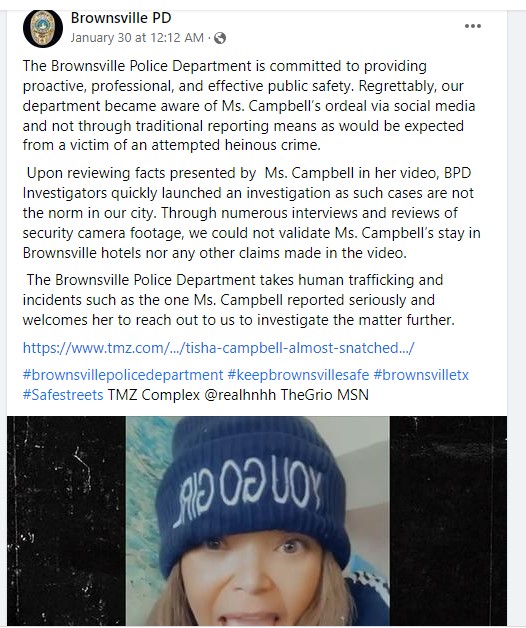 "Upon reviewing facts presented by Ms. Campbell in her video, BPD Investigators quickly launched an investigation as such cases are not the norm in our city," the department wrote on Facebook on January 30. "Through numerous interviews and reviews of security camera footage, we could not validate Ms. Campbell's stay in Brownsville hotels nor any other claims made in the video."
"Regrettably, our department became aware of Ms. Campbell's ordeal via social media and not through traditional reporting means as would be expected from a victim of an attempted heinous crime," Brownsville police wrote.
Sources: Rolling Out, Brownsville PD
*An estimated 400,000 people in the United States are living in human trafficking situations. About 60 percent of those people are women.* – UNITAS.ngo