Source: National Weather Service Raleigh Twitter Account 
Follow the National Weather Service Raleigh's Twitter account for continuous updates on Tropical Storm Isaias
Evening Updates: Tropical Storm Warnings remain in effect for much of eastern North Carolina. 30 to 50 mph winds with gusts up to 60 mph will be possible night into tomorrow morning. #NCwx
[12pm Update]: New for this update is that the Tropical Storm Warning has expanded west to include Wake, Franklin, Warren, Harnett and Hoke. #Isaias remains a tropical storm but is expected to intensify into a hurricane before landfall. Overall, impacts remain unchanged. pic.twitter.com/Cw3AAr7FiE

— NWS Raleigh (@NWSRaleigh) August 3, 2020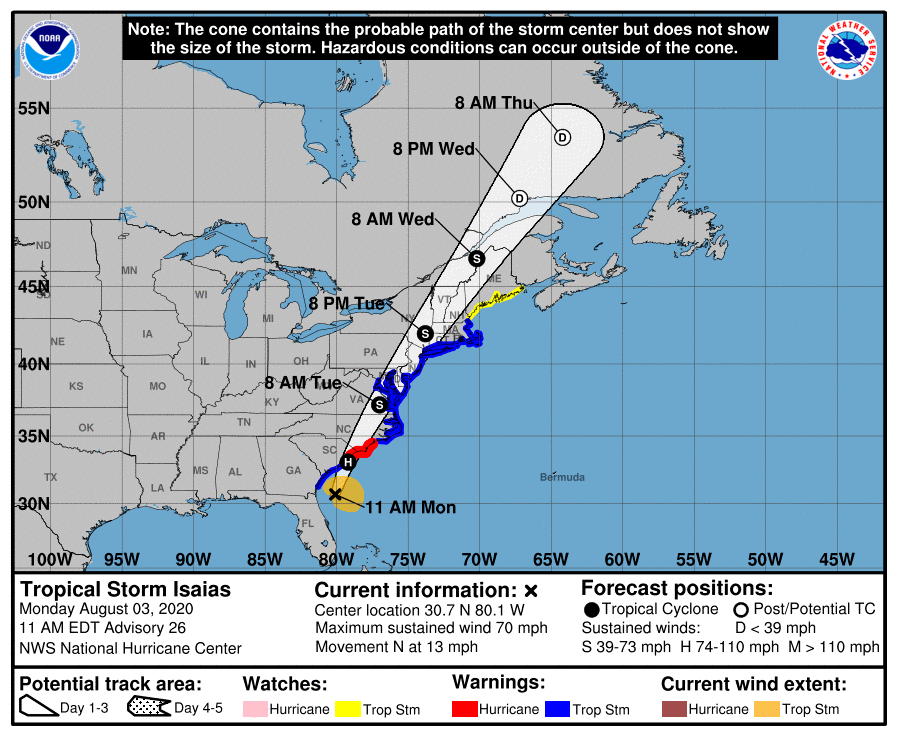 Source: WNCT
Evening Update: Isaias will make landfall near the NC/SC border late tonight and track inland over eastern NC through daybreak Tuesday. The storm should pull away from the WNCT9 viewing area by mid-day, but strong winds/rough seas will persist behind the storm.
Isaias will bring up to 4-6 inches of rain for eastern NC, in addition to wind gusts near hurricane-force. Storm surge up to 2-4 feet is possible along portions of the NC coast, and the risk of tornadoes will be high.
Tropical Storm Isaias is strengthening and speeding up. It is expected to be a Category 1 hurricane when it makes landfall in the Carolinas late Monday night or early Tuesday morning. The storm will bring the bulk of its force to North Carolina between 2 a.m. and 9 a.m. Tuesday.
Scattered storms are possible all Monday afternoon and central and eastern North Carolina can expect heavy rain and flash flooding. There will be possibility for some power outages and isolated tornadoes — Isaias brings with it a 5% chance of tornadoes.
Follow WNCT 9 First Alert Weather on Twitter by CLICKING HERE.
– Connect with WNCT 9 First Alert Weather and join a growing network of friends with WNCT 9 First Alert Weather on Facebook by CLICKING HERE.
– Download the WNCT 9 First Alert Weather app, available for free in the Apple App Store and the Google Play store. You can see First Alert Storm Lab 9 RADAR, detailed forecasts, weather maps,  and severe weather alerts.
Be Prepared:
If you have to evacuate, be informed on where you can take shelter.  Know the routes just in case there are road blocks due to subjected flooding. know the correct
Have an emergency family evacuation plan
Make sure you have access to a radio for news and weather updates.
Have an emergency family bag: batteries, personal hygiene supplies, first aid supplies, flashlights, cash, medications, and any important paperwork you may need.
Plan for possible outages and water loss. Have supplies in stock just in case you cannot leave your home.